Hometown Mechanical provides a complete line of commercial plumbing and HVAC services. Our services extend to a wide range of sectors including, but not limited to, hotels, retail, education, housing & senior living, manufacturing, and food services. Additionally, we offer 24-hour emergency plumbing, HVAC, and underground utility services.
We take pride in our ability to perform work safely, on time, and within budget.
With an in-house engineering staff, highly skilled field technicians, and experienced project managers, Hometown is the perfect fit for your next commercial project.

Click the icons below for more information on our commercial plumbing and HVAC services.
Click to Learn More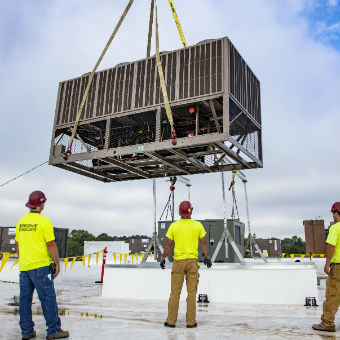 HVAC
Commercial HVAC
Hometown offers a full line of services to fill your commercial HVAC needs. Through our use of detailed load analysis and 3-D computer-aided design, we provide cutting-edge systems that match your project's budget and ensure occupant comfort. Our engineering and field staff have extensive knowledge and experience designing and installing the following mechanical systems:
Chillers
Boilers
Air handling units
Energy recovery units
Rooftop units
Humidification
Computer room units
Geothermal
Radiant heat
Heat pumps
Unit heaters
Dehumidification
Cooling towers
VRF systems
Exhaust fans & hoods
Make-up air systems
VAX boxes
Split systems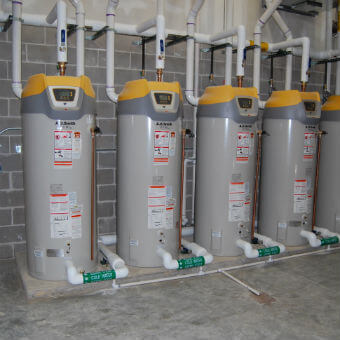 Plumbing
Commercial Plumbing
Since 1983, Hometown Plumbing & Heating has been a leader in the commercial plumbing industry. We are experts in multiple plumbing disciplines including, but not limited to:
New construction
Remodeling & retrofit
System design
Product selection
Tenant fit-outs
Piping for water, sewer, gas, and air
Water heaters
Water treatment
Plumbing fixtures
Backflow testing
Backflow prevention
Sump pumps
Grease traps
Roof drains
Storm water management
Oil separators
Circulation pumps
Our Approach
Our extensive industry experience has allowed us to develop a project management approach that leads to safe, quality, and cost-effective construction projects.
We ensure each project receives the resources it requires, such as:
Licensed professional engineering staff specialized in system design, Building Information Modeling, and virtual construction/coordination processes
Safety professional in charge of weekly tool box talks, on-site inspections, and site-specific safety training
Dedicated project manager who ensures conflicts are minimized, milestones are met, and work continues to flow smoothly
Experienced field supervisor who is in tune with field craftsmen and office staff, ensuring daily production goals are met and project schedule is on track
Effective solutions. Superior results.
We have a long history of bringing effective solutions to commercial plumbing and HVAC projects including scheduling, budgeting, coordination, alternative design, and cost-effective fabrication and installation.

The scopes below from some of our past projects demonstrate our mechanical contracting abilities:
Liberty High School | North Liberty, Iowa
Justin
2018-08-08T14:16:03-05:00
Services Provided:
CAD Coordination
Mechanical
Plumbing
Project Bio:
Geothermal loop field, located beneath future football, baseball, and softball fields, consisting of 600′ bore lengths stacked at depths of 15, 30, and 45′ along with 10 bores per circuit and 18 total circuits, for a total of 82,000′ of active pipe.
6 Bell & Gossett e-1510 base mount hydronic pumps
137 ClimateMaster heat pumps with cooling capacities ranging between 15,600 – 68,300 Btuh and heating capacities ranging between 21,000 – 85,300 Btuh
21,000′ of in-floor radiant heat tubing serving approximately 29,000 sq. ft. of dining and lobby areas.
3 duplex water cooled helical rotary chillers with combined cooling-mode cooling capacity of 342 tons and combined heating-mode heating capacity of 3,353 mbH.
A total of five ERUs were used to reduce duct sizes and increase flexibility of outside air delivery
Air handling units installed to provide comfort cooling and heating and code required ventilation to areas of high occupancy where installing heat pumps would have been cost prohibitive
62,000' of combined pipe between domestic, sanitary, gas, storm, and acid/waste vent systems
497 total plumbing fixtures including 65 sinks, 29 showers, 24 urinals, 87 water closets, 22 eye wash stations, 26 drinking fountains, and 14 ice makers
Syphonic storm drain system containing 7 roof drains and 3 overflow roof drains
Domestic waste and vent system containing 201 floor drains, 26 floor cleanouts, and 24 floor sinks
From conception to completion, we are the one-stop-shop for
your mechanical contracting needs. Contact us today | 563.381.4800